Come for Stations of the Cross...Why not also stay for fish?
(click here)
SATURDAY
5:00 PM   (Said Mass)
SUNDAY
7:00 AM   (Said Mass)
 

9:00 AM  (Sung Mass)
Live Streamed

 

11:00 AM (Sung Mass)

 
5:00 PM   (Said Mass)
MON-SAT
7:00 AM   (Said Mass)
SUN    8:30 AM to 9:00 AM
              10:30 AM to 11:00 AM
WED    3:00 PM to 4:30 PM
THU     5:00 PM to 6:30 PM
SAT       7:45 AM to 9:30 AM
Daily Office
Morning and Evening Prayer
Monday - Sunday  6:30 AM and 4:30 PM
Parish Devotions
Adoration of the Blessed Sacrament
Sacred Heart Chapel
Friday 7:45 AM - Sunday 6:15 AM

Benediction of the Blessed Sacrament
First Saturday following the 7:00 Am Mass

Parish Rosary
Saturday after the 7:00 AM Mass

Right to Life Mass
First Saturday at 7:00 AM
Yes! Our Lady of the Atonement is a fully Catholic parish, in union with Pope Francis.
We are members of something called "The Ordinariate of the Chair of Saint Peter," which was established by Pope Benedict XVI in 2012.
Anyone and everyone is welcome to attend Mass at our parish and participate in our parish events!
You do not have to be a formal member of our parish or The Ordinariate.
To receive Holy Communion during Holy Mass, one should be in full communion with the Catholic Church and in a proper state of grace. Learn more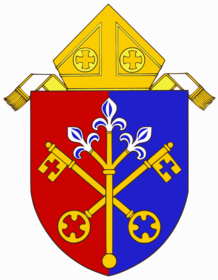 The Ordinariate of the Chair of St. Peter is a structure, similar to a diocese, that was created by the Vatican in 2012 for former Anglican communities and clergy seeking to become Catholic. Members of the Ordinariate are fully Roman Catholic while retaining elements of Anglican heritage in their celebration of Mass and in the hospitality and ministries of their Catholic parishes...
Everyone is welcome at Our Lady of the Atonement
Don't miss a thing… Subscribe to parish updates: